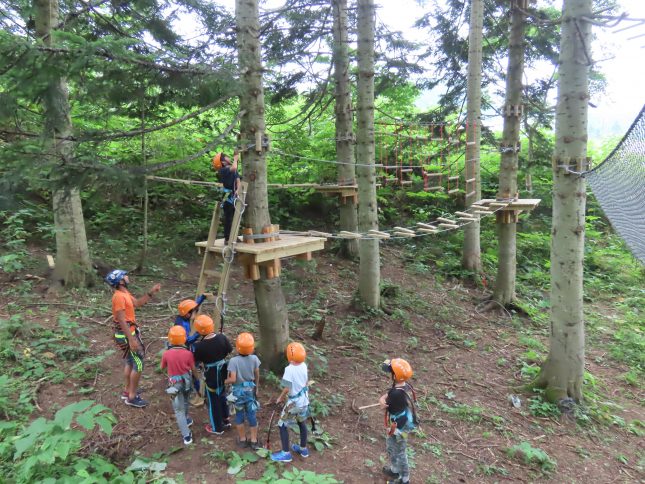 Three days of action and adventure with NAC. This is not a computer game , this is the real thing, get rough, get dirty and get wet. From high in the pine trees of Hirafu and even to the loftier altitude of the Peak. Then down, down, down all the way to the river. Three days of adventures at NAC's own facilities with NAC's experienced and fun outdoor guides. At NAC Niseko Adventure Center, we will utilize our abundant know-how on outdoor experiences to provide day camps that focus on outdoor activities. Everyone who attends an international school, please take advantage of the school holidays and come visit us in Niseko. Since it is held on weekends, domestic elementary school students can also participate. If you want to make English-speaking friends, please join us.
Schedule
2023
① June 9 (Fri.) – June 11 (Sun.)
② June 16 (Fri.) – June 18 (Sun.) 
③ June 24 (Sat.) – June 26 (Mon.)
④ June 30 (Fri.) – July 2 (Sun.)
⑤ July 15 (Sat.) – July 17 (Mon.)
⑥ July 18 (Tue.) – July 20 (Thu.)
⑦ July 21 (Fri.) – July 23 (Sun.)
⑧ July 24 (Mon.) – July 26 (Wed.)
⑨ July 28 (Fri.) – July 30 (Sun.)
⑩ August 1 (Tue) – August 3 (Thu.) 
⑪ August 22 (Tue) – August 24 (Thu.)
Activities
Day 1 – Adventure park & River kayaking
Day 2 – Climbing & Rafting
Day 3 – SUP or Kayak & Forest trekking
*The program may be changed depending on the physical condition of the participants and weather conditions.
LUNCH
Children attending the Kids Day Camp will be served the following menu at the 2nd floor restaurant.
JOJO'S original burger
Curry rice
Taco rice
We are not able to accommodate special menus for allergies.
If your children cannot have the menu above, please bring your own lunch.
If you are planning to bring your own lunch, please leave a comment "bringing my own lunch" in the comment box.
Age
6 to 15 years old
Capacity
Minimum 4ppl. Max 20ppl.
Price
Under 12 years old 33,000 yen
13 to 15 years old 46,000 yen
(tax included, accident insurance, lunch, equipment rental)
Private day Camp
Available as a Private day Camp on other days. Please ask us.
Price per 1day
| | |
| --- | --- |
| 1 to 4ppl | 60,000 yen |
| 5ppl | 80,000 yen |
| 6ppl | 100,000 yen |
| 7 to 10ppl | 120,000 yen |
| 11ppl | 140,000 yen |
| 12ppl | 160,000 yen |