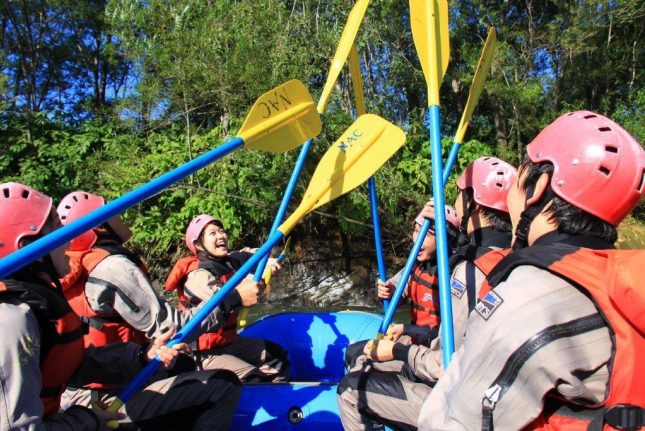 Team Building
One of the main aspects of team building is to get everyone away from the office into an entirely different environment, somewhere office rules and positions will not necessarily apply. For this, the white world of snow and cold winter temperatures of winter, or the leafy forests and clear water rivers of Niseko summer, are perfect.
NAC has been providing Team Building for both Japanese and foreign companies for the last 15 years. Niseko is the perfect place for team building, beautiful nature, fresh air, spring water and loads of adventures. NAC Team Building mixes traditional team building with NAC 's adventure activities and guiding skills. NAC Team Building programmes are available in both winter and the green season. A lot of our programmes are tailored to each company, but I have our main team building activities and some examples of the programmes we have done in the past. Please contact our Team Building staff for further information.
NAC Team Building Programmes
Competing as a Team: (half day)
(team coordination, communication, leadership, the want to win as a team, obstruction (in a fun way) of rivals, fun as a team)
Winter Biathlon: Cross country ski racing on giant skis so the whole team can ride at the same time. The race includes obstacles like deep powder snow, small hills, limbo and barrel rolls. There is no downhill skiing involved as this would be too dangerous. At certain points along the course teams will be required to throw snowballs at targets. All targets need to be hit before being able to continue. This event has two components, the ability of the team to coordinate together and like the real biathlon, target accuracy is needed to stay in front and win.
Bobsleigh racing: Head to head racing. Three people can ride the bobsleigh at one time, the rest generally throw snowballs at the opposition from the sidelines. Everyone gets a chance to compete. This is very exciting, thrilling and competitive.
Rafting Race: A great fun river rafting race. Each team needs complete several maneuvers and challenges while going down the river. Water pistols, river jumps, fun rapids, lots of swimming and splashing are all part of this fun team race. Each raft will have its own NAC guide to ensure safety and fun. Great to finish this with a riverside BBQ or picnic.
Creating and Making Together: (Up to half day)
(team discussion and planning, defining and deciding work roles, physically constructing, working towards a finished product, trying to make your product better than the other teams, work pride)
Snow Cave Building: Teams are required to build a snow cave big enough for several people to drink hot chocolate in. Caves are ranked by the judges and points awarded. Caves usually take 40 mins to one hour to make. Some teams even make tunnels connecting them to neighbouring caves.
Snow Statue Building: Next the teams are required to snow carve a famous monument. This is like the Sapporo Snow Festival. Each team is given an image or photo of something they will have to make eg Sydney Opera House. There is one image per team. An ice breaking game is used to decide which team gets what image to build. There's a variety of different carving tools available. The Judges award points for the best efforts. This usually ends with people taking a lot of photos next to the statues.
Bridge Building: Your team will be the architects, engineers and builders of a bridge over a stretch of water. Rope and pre drilled wood are your only materials. A bridge plan is provided and the group is broken up into individual roles by lucky draw. The company head will be required to give the bridges the ultimate test of worthiness by crossing each bridge. This is a great team project and also introduces people to new roles that they would not normally do in the company.
Catapult Building: Each team is required to build a catapult of their own design. We provide a whole range of interesting building materials the rest is up to your imagination and teamwork. A final shootoff to decide the most accurate and best design.
Encompassing the Whole Company:
(small teams work together to eventually combining efforts with the other teams to achieve a common goal; inter team collaboration; team challenges; reward for the entire group)
Treasure Hunts: (2~3hrs) The ultimate team building. Each team is given a treasure map and compass. Along the way to finding the treasure, they must solve the clues, overcome the challenges and use the other team's (skills, tools or specific knowledge) to find the treasure. To find the treasure in the end the teams will need to combine together.
Team Rafting: (3~3.5hrs) NAC offers rafting trips down the Shiribetsu river in the Niseko area. In spring with the snow melt there is lots of great rapids and waves on a class 4 river. In the summer months the rapids are smaller (class 2/3), but the weather a lot warmer. Lots of swimming, jumping and river play. Autumn is beautiful red, orange and yellow leaves and crisp clean autumn air. Later in autumn, a peppering of snow makes it even more scenic.
Outdoor Adventures: (SUP, River Kayak, Sea Kayak, MTB, Canyoning) NAC runs many adventures, camps and race events throughout the year. We also cater to many groups who would like to do a special adventure together. Talk to our staff about planning a unique adventure for your company.
Company Rock Climbing (Sapporo) The NAC climbing gym in Sapporo is one of the biggest in Japan. With 70 top ropes and a huge bouldering area. Climbing is a great sport for people to learn to communicate and rely on others to do an important task, all while having fun and challenging themselves to new heights.
Examples:
Summer Example 1: Japanese Company; One Day; BBQ lunch; Team Adventure Orienteering; Including 200 Rubber Duckies
Summer Example 2: Foreign Company; Half Day; Riverside Lunch; Team Rafting Challenge; Including Water pistols
Winter Example 3: Foreign Company; Half Day; Onsite Refreshment Bar; Company Name Winter Olympics; Team Bobsledding, Snow cave construction and Snow structures construction.
All Year Example 4: Executive Fitness; a three day programme with a daily exercise calorie objective achieved through different adventures. Combine with body maintenance services and healthy country food.
Summer Example 5: Japanese Company, Bridge Building. The objective was to access new company staff. Team Building involves leadership, teamwork, ability to follow, lateral thinking and hands on work.
Some considerations are:
It is good if the teams have some hat or jacket, so that they feel they are part of a particular team.
Judging is best done by the boss.
It is good to have some prizes for the winners.
It is good to organise a video and/or photos.
Please supply your company logo so we can do some branding at the event.
Toilets are nearby.
We provide a refreshment tent onsite with hot drinks and cookies etc.
Our staffing depends on the team building, but is usually around one per team.
An AED and trained first aid providers are on site.
Ambulances and the main hospital is in Kutchan.
Groups
NAC offers many different packages and discounts for group customers. For example, you can combine your rafting tour with anything from a gourmet dinner to a rowdy BBQ. Please contact Yasu Takagi at sales@nacadventures.jp for further information.
Schools
NAC has been introducing adventure to school groups for almost 20 years, with over 200,000 students partaking. School adventures can involve anything from a half day rafting, kayaking, mountain biking or trekking trip to a multi day camp trip. NAC also does Adventure Education and Environmental Education. Adventure Education involves the development of such things as trust, leadership, teamwork, self confidence and lateral thinking through adventure activities and challenges. Environmental Education involves learning about nature, the dynamics of rain rivers forests and man made effects, by actual field research. Please contact Yasu Takagi at sales@nacadventures.jp for more information.