4th September 2022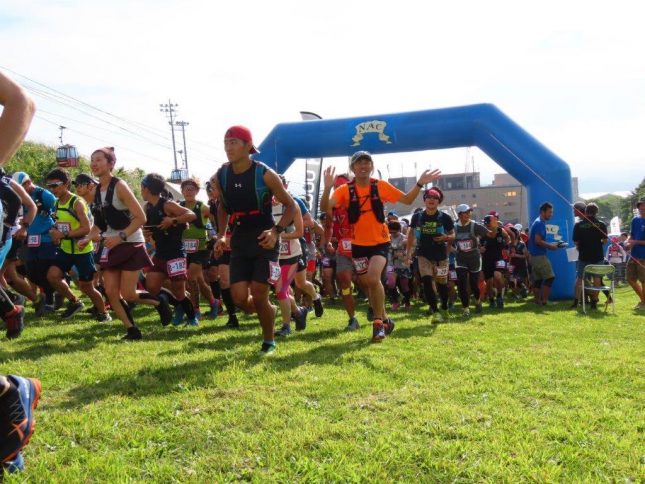 Hokkaido's first trail run is now on its 21th edition. The NAC Trail Run is one of Niseko's premier sporting events with hundreds of people taking part every year. It is trail runner's smorgasbord of mountains, forest trails, log hopping and creek crossings. There is a 30km mountain course for the hardcore, a still considerably mountainous but mercifully shorter 10km course, and a 5km serene forest trail course. Anyone from at least primary school age can join the run.
For more information and photos, please check our NAC Trail Run Facebook
| | |
| --- | --- |
| Schedule | Sunday, September 4, 2022 |
| place | Around Niseko Annupuri |
| meeting time | 6:30 reception start |
COST
Run
Price
Age
30 km
¥6,300
Adults
¥5,300
Students
10 km
¥4,900
Adults
¥3,900
Students
5 km
¥4,100
Adults
¥2,900
Students
Those who wish to join the day before can sign up at the NAC Center.
If you are staying at a hotel, please inform them of your participation in NAC Trail Run as there are special plans at Hotel Niseko Alpen, Hilton Niseko Village, Aya Niseko, and Green Leaf Hotel.
| | |
| --- | --- |
| Accommodation | Contact #: |
| Hotel Niseko Alpen | 0136(22)1105 |
| Hilton Niseko Village | 0136(44)1111 |
| AYA NISEKO | 0136(44)1280 |
| | |
How to Apply:
STEP 1:
Please fill in the required items from the reservation screen on this page and apply for each participant.
When applying for multiple people at once, please indicate so in the comment field. We will contact you shortly.
STEP 2:
Please pay by credit card or bank transfer.
・ If you wish to pay by credit card, we will send you an invoice by email.
  * Please be sure to enter your email address in the email field on the reservation screen.
・ Bank transfer (North Pacific Bank Kutchan Branch <Number> 0340552 <Account Name> NAC Co., Ltd. (Kabushiki Gaishanak)
  * Please include the transfer fee.
Online Entry process:
Online entry is possible from the runnet booking website.
Volunteer staff recruitment
We are also looking for volunteers to support the athletes who will run through the mountains together.
Date and time
September 4th 6: 00-16: 00
Number of people
4-6 people
Contents
Player support and preparation at receptions, checkpoints, water stations, etc.
Benefits
Lunch on the day of the race, and a race souvenir
Round-trip transportation expenses are provided according to our regulations.
Staff accommodation is possible for those who wish to start the day before the race.